When you are marketing your business online, understand that developing your website is only the start of it.  All of us want to see our efforts be reflected in our company's revenue. Therefore, it is essential to pay attention to the conversion rate of your website. Let us discuss some of the most effective strategies to boost your conversion rate. 
How Important is Your Website Conversion Rate?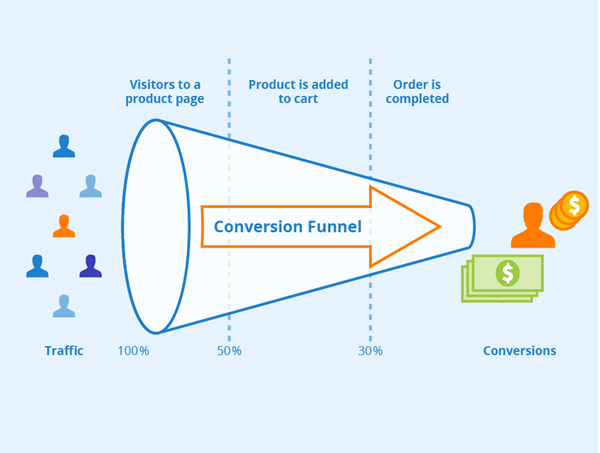 The website conversion rate represents the people who will visit your landing page, buy your products, or book your service. For instance, if there are around 1000 visitors and at least 100 of them are converted into customers, your conversion rate is 10%. If you are reading this article, there is a good chance that you are looking for ways to improve your conversion rate. Before you even consider the different strategies available, you will first have to check if you are setting a realistic goal.
According to the latest report, the average conversion rate of most eCommerce sites is about 2.86%. The number can vary depending on the industry. For instance, the electronic store has posted a 22% average website conversion rate. The Industrial sector on the other hand has a conversion rate of 6%-7%.
Having a basic understanding of the average conversion rate will help you set a realistic goal. If your website conversion rate is currently lower than the national standard, you need to look for techniques that will help you achieve a higher number. Those who have a higher conversion rate will find the strategies here essential in giving them a decent increase.
Measuring Your Website Conversion Rate
There is no use in setting a goal if you have no means of measuring them. Different free tools such as Google Webmaster will help you analyze the overall traffic of your website. Each time you are updating your website or refining your SEO strategy, you will need analytics to determine how your efforts are affecting your traffic. There are free tools that will help you identify the efficacy of your PPC campaign. You will know if your social media ads are helping you boost your company's revenue or not. You can also keep track of your organic traffic.
Our company is aware of how analyzing these data can be time-consuming and mentally draining. Therefore, we will provide you with analytics after launching your website. We can give you feedback to improve the performance of your website.
What Actions Do You Expect from Your Visitors?
To maximize your analytic efforts, you need to identify the actions you want your customers to do once they landed on your webpage. For individuals who are managing an eCommerce site, they want their customers to purchase their product. You can increase the probability that your customer will initiate a purchase by promoting your product or running a sale. However, for those who belong in other industries that are not focused on online sales, there are some ways on how you can determine your website's conversion rate.
The number of visits to your brick-and-mortar store and office.
The number of calls to make an inquiry.
The number of opt-ins on your newsletter or webinars.
Understanding what you want your customers to do can make it easier for you to improve your conversion rate.
If you want to improve your sales, you can heavily promote your most popular or best-selling products.
When you want to increase your newsletter opt-ins, never forget to add a CTA button on the section of your website that is receiving the highest engagement rate.
If you want to receive more business inquiries, be sure to add your contact information on critical areas of your website.
Improving the in-person visits will require adding CTA all over your site that will promote this behavior.
Providing a Smooth Mobile Experience
Based on the report, about 39% of online purchases will be initiated using tablets and smartphones. Most people have smartphones today and the current numbers are expected to increase in the coming years. If you have a website that is mobile-friendly and responsive, your audience will be able to enjoy a seamless experience and convenient transaction. If you can offer them the convenience that they can't find on your competitors, you are always one step ahead in encouraging the customers to purchase your product.
Having a User-Friendly Interface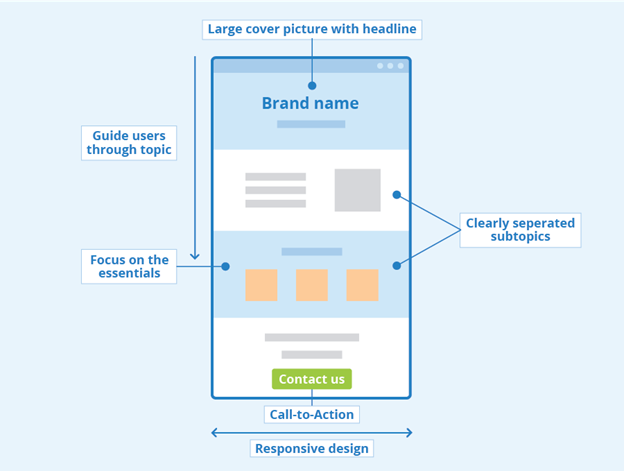 By having a user-friendly interface, you can guarantee that your customers can access the information that they need easily. When they are using their phone to access your website, make sure that they will not have to navigate through different texts to access the thing that they are looking for. When we are in the process of designing your website, we make sure that the navigation system will be user-friendly.
Your Website Should Load Fast
While most of the store is now equipped with a 5G internet connection, the loading of your website may still take forever if it is heavy with the script. Once it takes too long, your customer will choose your competitors. As such, you need to make sure that your website will load in less than 10 seconds. Aside from creating a mobile-friendly site, you also need to make sure that it will be ultra-fast.
Experiment with Your Landing Page
When you are developing your landing page, there are some things that you can do to improve your website's conversion rate. For instance, reports stated that it will increase the likelihood that a customer will initiate a purchase if you refrain from asking their age. Introducing video can improve your engagement rate. Some reports state that having multiple landing pages is better than 1-2 landing pages.
Introduce a Profound Visual Experience
Even if you think that adding video or image will not be relevant to your industry, it can still improve the conversion rate of your website. While the customers of eCommerce sites will consider the convenience of your online shop, watching videos and colorful images will give them a personal experience. Adding high-quality videos and images will give the customers a chance to assess the quality of the product. This can help them reach a better decision. It gives them confidence that they are investing their money in the right product. If you are doing business in the service sector, images and videos are still valuable. Your customers want to know if your office is inviting and conducive. While there are businesses in the service sector that does not heavily rely on images such as accounting and law, it is still essential when you want to evoke a sense of professionalism and reliability.
Promoting Rewards
All buyers will look for an opportunity to save extra cash. If there is a possibility that you can provide it to them, you will discover how it is effective in boosting your website conversion rate. Perhaps two of the most popular way to achieve this is by introducing a reward scheme and discount codes or coupons. Discount codes are popular among the industry that sells products. Reward schemes are intended for a range of sectors. A good alternative to increasing the conversion rate and encouraging repeat business is by offering your products at a discounted rate. You may give them a discount if they successfully refer a friend and if their friend spends the required amount. Make sure that this offer will be visible all over your site.
Tools That Will Improve Your Conversion Rate Dramatically
Perhaps one critical thing that most digital marketers will often ignore would be optimization tools that they may use to boost the conversion rate of their website. Most of us will be very pressure in turning those leads into sales. However, once you realize that you can increase your Conversion Rate Optimization on all your marketing funnels, you will soon realize how important it is. based on the report of Wordstream, using CRO tools will boost the company's ROI at around 233%. Here are some of the tools that you must consider.
MobileMonkey
If you are looking for CRO tools for a live chat, MobileMonkey would be an ideal choice. The chatbots of this tool allow you to be proactive in communicating and engaging with your customers. It will eventually boost the revenue of your company and increase your leads. it also provides you with real-time support on different channels. It is a live chat tool that would be excellent for boosting your website's conversion rate. By integrating a live chat program on your website by 45%.
Chatbots have been proven effective in increasing your conversion rate. Be sure that it will include a range of features such as bots designed to automate lead generation and qualification. It should have targeting tools and audience segmentation, opt-in tools, and lead capture that will boost your subscribers and live-chat bots for your agents.
Proof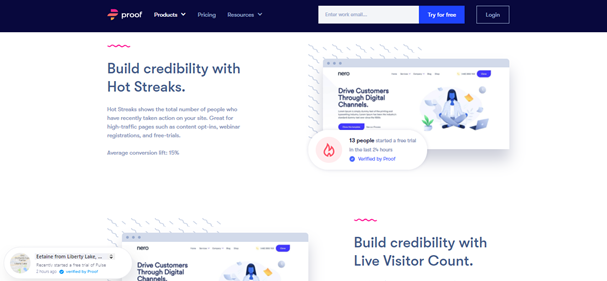 You probably think that CRO tools are only intended for the large players in the industry and those that have a big budget. While you may have 10 thousand unique visitors each month, there is a range of tools that are practical and useful for all companies of different sizes. Perhaps one recommended tool would be Proof. This tool is essential in personalizing the experience of your audience. It is an optimization program that features some interesting tools in improving the CTR (Click-Through Rate), Conversion Rate, and User Experience. The good thing about Proof is that it is designed for marketers like you. It comes with a simple and functional interface that even a beginner could use.
Proof offers two products; Pulse and Experience. With Proof Pulse, you will receive a notification when people took action on your website. It will show you the total actions that have been taken on your site. This tool would be essential for websites that are receiving high traffic. Proof Experience allows you to adapt your site according to the preference of the visitor; such as the image, CTA, and text. it allows you to offer a personalized experience according to the visitor's behavior, traits, and events. If you want to develop multiple experiences according to the visitor of your website.
SimilarWeb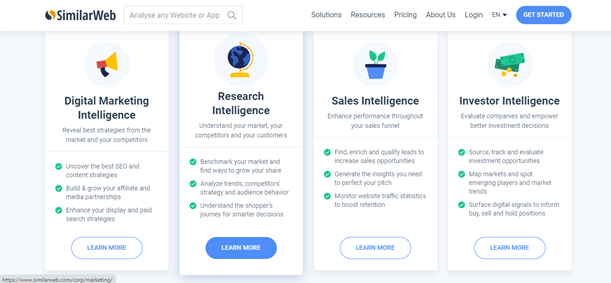 SimilarWeb is a tool that is consistently being used by marketers since it provides them a comprehensive report about their competitors. It also gives them more information on how they can drive more audience to their website. Apart from this, you can also use SimilarWeb to enhance your paid search campaign and improve your display. It is essential in developing and increasing your media and affiliate partnership. SimilarWeb is also effective in guiding you towards the right SEO method and tweak your content strategy.
Moreover, SimilarWeb is also effective in boosting the conversion rate of your display ads and PPC campaign. You will be able to see where your competitors are investing in their advertising budget. It will also divulge the placement, ad network, landing pages, and creative strategy of your rivals.
CrazyEgg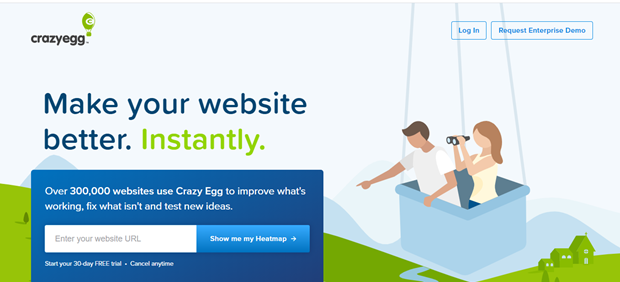 This tool was first introduced in 2005 and since then, it has become one of the most popular CRO tools. With this program, you will be able to see your effective strategies and those that are not. It also helps you know what your visitors are doing when visiting your site. It comes with a variety of features such as A/B Testing, recordings, and heatmaps. With the heat-mapping program, you will be able to improve your insight into Google Analytics. Understand how your visitors are reacting to your ad and e-mail marketing campaign. With the metrics that you will see here, you can also adjust your CTA and ensure that your audience is seeing them. You can also arrange the content of your website according to its importance. You can also use the data here to plan the redesign or revamp of your website.
With CrazyEgg, the entire session of the visitor will be recorded. it allows you to have a more in-depth understanding of the patterns when people are browsing your site. The Recording Feature of CrazyEgg is crucial if you want to determine the cause of your audience's frustration like a glitch or a bug on your website. You will have a real-time view of how the visitors are interacting with your checkout page or product. Audiences are divided according to segments like Most Active, Mobile, or New. It makes it relatively easy to understand the different behavior of your audience by filtering the segments.
Leadformly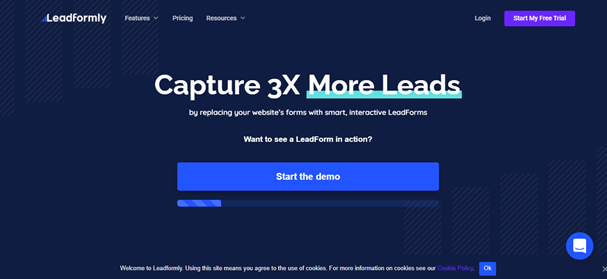 Using Leadformly allows you to embed leads with beautiful templates in just about anywhere on your website. It will work in any type of CMS such as Magento, Squarespace, and WordPress. Leadformly will boost your conversion rate through lead generation. There are more than 60 templates to choose from. You can quickly customize your lead forms and see what works for you. The form can also be integrated with your CRM and embedded into your site. The analytics of Leadformly is also essential in improving your conversion rate.
Amplitude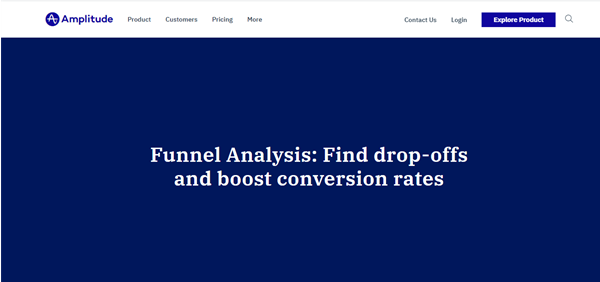 If you are looking for ways to improve your product experience that will retain the audience and convert them, Amplitude will make it possible. This is very vital for SaaS companies that are developing customer-focused product experience. It will give you insights into your audience's behavior when visiting your site. Now you can keep your audiences engaged in a way they want to. This CRO tool will show you how people are using your online site or service. By monitoring their behavior, you can see the different actions that they are willing to take. You can also identify some of the issues that may improve or affect your UI/UX.
If you have a subscription-based website, you will find this tool very beneficial. You want to ensure that your subscribers will continue to pay monthly or yearly. Amplitude can be used in optimizing your marketing and sales funnel.
Mixpanel
For those who are looking for a tool that can do more than just monitor the actions and behavior of your audience online, Mixpanel is an ideal software for you. It is an analytic tool that will help you retain, engage, and convert your customers. Compared to the popular Google Analytics that excels on session-based or page-based audience tracking, Mixpanel uses event-based tracking. It focuses on offering different features. It allows you to gather accurate information. Depending on the data that is essential for your company, you can collect the real-time product and customer data whether on the web, mobile, or other platforms that your audiences are using to access your website.
With Mixpanel, you can also identify the latest trend. When you collected the key metrics, you will notice any business trend overtime. Perhaps you also want to see how your audiences are growing, or which page is receiving the highest engagement rate. All patterns that are crucial for your business can be found here. You can also figure out why those trends exist. With data science, analysis, and modeling, you can understand why users are possible to retain, engage, and convert. After you have collected all the vital data and discover the metrics that are trending, it is time for you to devise a plan. With this, you will be able to set your goals and make hypotheses that will help you reach them.
Boosting the company's website conversion rate is essential if you want to improve the revenue of your business. Nonetheless, you should know what is realistic and what is not. Once you are aware of that, you can now go through the different strategies we mentioned above