As a company specializing in designing the company's website, we know the importance of using high-quality images. We know that most customers can be stimulated and engaged by the things that they see. Once they visit your website, they need to immediately comprehend that your service or product is worth their every penny, and high-quality images will help you achieve this. However, you are probably wondering where you should find them.
How Do You Define a High-Quality Image?
There are two ways on how you can determine a high-quality image. Let us look at this matter in a more detailed manner.
Technical Quality-When it comes to the technical quality of the image, you will have to consider the DPI (Dots per Square Inch) of the picture. The image you are planning to introduce on your website needs to have at least 72 DPI. There is no use to opt for a 300 DPI that you will see on print since most computer screen will only display 72 DPI. Remember that images with higher DPI can affect the loading of your website. A slow-loading website can, of course, lead to a higher bounce rate and lower engagement rate.
Apart from the DPI, you also need to consider the size of the image.  Any image that has a width lower than 1500 pixels may appear blurry. It will affect the professional appearance of your website. Look for an image that has at least 2500 pixels in terms of width. Pixels and DPI should not be used as your main point of consideration. As a rule, if you feel impressed by the image and you want to keep it on your website, then you are free to do so.
Image Relevance- Even on the off chance that you managed to find a high-quality image, it won't help you on your online marketing if the image is not relatable.  As we mentioned above, you should not allow the picture's aesthetics to dictate you from choosing a relatable image. You also need to ensure that the image will reflect the company's product, mission, goals, and ideals. It would be best if you guaranteed that the image would resonate with your targeted customers.
Where Can You Find High-Quality Images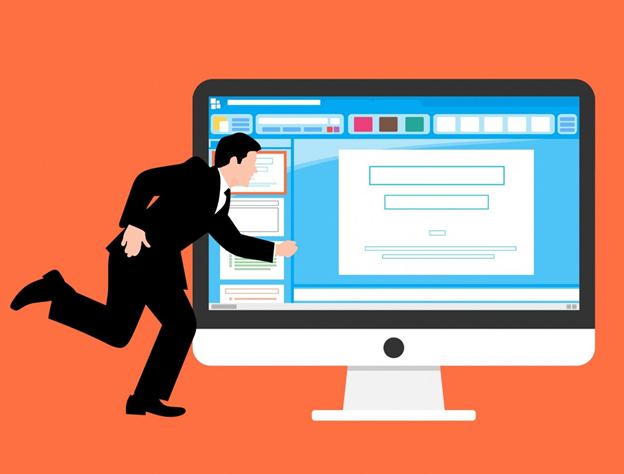 While paying for a high-quality image is always an option, not many of us will have the budget to do that. Fortunately, some websites are offering free stock images that you can use on your website. Sites such as Pixabay, Shutterstock, and Flickr are offering thousands of free images. Understand that most of them will require you to add credit to the image. Perhaps one of the advantages of using free stock photos is that all images have been examined before publication on the website. Nonetheless, be sure to check the terms and agreements before you download and use them.
Understanding Usage Policies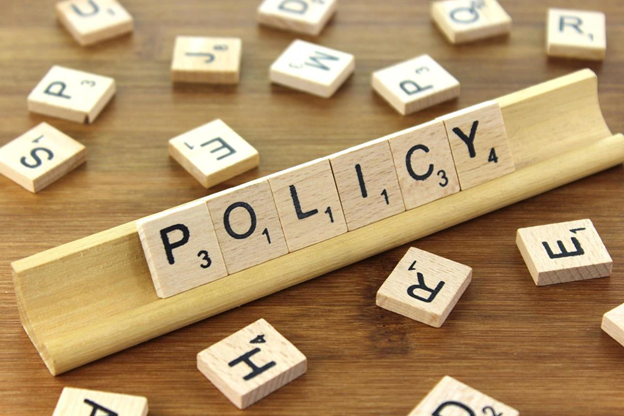 It is essential not to rush everything when you are planning to use stock images. Regardless if you are paying or using a free stock image, it always comes with restrictions. For instance, the more affordable stock images can only be used on your personal blogs. Therefore, if you use them for your marketing campaign, you may end up breaching the agreement. You can then be charged with an expensive fine. To avoid legal issues and penalties, you should not ignore the small fine print related to the image. Some restrictions that you may encounter are the following.
Single-Use- This refers to the images that you are only allowed to use once. You should never use them several times on your website.
Editing Restriction- Images can be used several times and on several websites. However, you do not have the right to edit them.
Audience Restriction- If your website attracts the general audience, this type of restriction may trouble you.
Editorial License- This is a more flexible type of policy. It enables you to use them multiple times and show them to any people.
Note that the term we use here can change depending on the website where you are getting the stock photos.
The Importance of High-Quality Images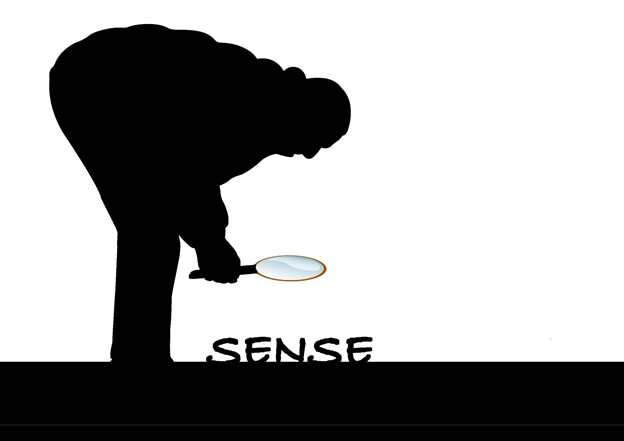 Getting a high-quality image requires a lot of effort, but it is essential. For instance, if you have an online shopping site, you will know that most of your audience will pay attention to the product's image. It can persuade them to spend their hard-earned money. Imagine you are the customer. Will you buy a product if the picture shown on the website is blurred? 
Here are more reasons why you should choose a high-quality image.
It Boosts Organic Traffic- Around 10% of Google's organic traffic are from their image section. It is a considerable number, and you should not ignore this. When adding images to your blog or site, you need to make sure that it is SEO-Friendly. Simply add the necessary keywords on the alt tag and description of the image. 
Increase Engagement Level- High-Quality images ensure that your customers will not feel bored when surfing your website. It will improve their opinion of your brand. If you use an image that is relatable and matches your brand, you can be sure that your engagement level will increase. Study shows that engaged customers have a higher rate of being converted into paying customers.
Create a Personal Feel- Regardless of your business's nature and the service you are offering, customers are now looking for a particular connection before choosing to spend their money. The image you use in your business and how it depicts your professionalism level can encourage customers to connect with your business. 
Where Can I Find High-Quality Images?
Whether you are designing a website, or preparing for your presentation, finding a high-quality visual image is crucial. However, there are times that you may use copyrighted images that can expose you to some legal claims. Taking photographs requires some skills, and hiring professional models can be costly. Luckily, there's a more affordable option. Just be sure that your competitors are not using these photos, or you will lose the chance to make your business stand out.
Why Stock Images?
Before we enumerate the list of sources where you can find a quality visual image, you are probably wondering why it is better for you to use stock images. Website managers and bloggers will always find it handy. They can place it inside their article or post it on their social media page without worrying about the copyright issue. It would be extremely beneficial to a new website to populate their page with content and want their website to look aesthetically pleasing. Using this is fast and cost-efficient. There may be a stock photo site that offers a paid membership, but it will provide you with many benefits. So, here are the best sources of stock images that you can use in your website without further ado.
Pixabay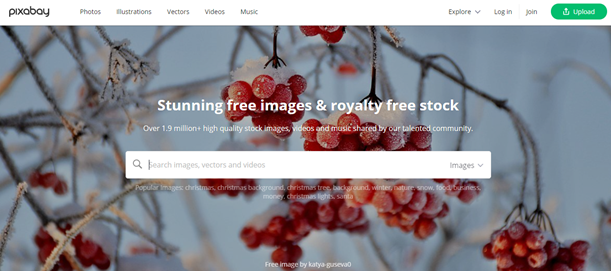 Pixabay is undoubtedly one of the most popular websites that allow you to download royalty-free photos. It has the most extensive collection of stock photos with more than 2 million images. Perhaps one good thing about this website is that you will find pictures with a CC0 Licensing (Creative Commons Zero). Therefore, it would be possible for you to use it professionally and personally without violating any existing law.
Apart from photos, you can also find royalty-free videos, illustrations, and vectors. You will be impressed by the quality of the images since it would be appropriate for various uses, including web design. Most, if not all, are high-quality, and you can download them in different resolutions according to your needs and requirements. It is the best source to find stock images that you will use on your site. There is absolutely no stress; it can't get any better than this.
Pexels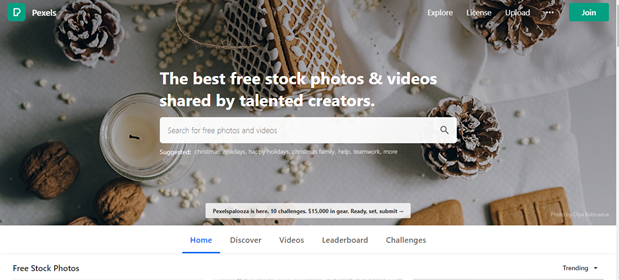 Pexels is another top source of stock photos today. Designers and bloggers that are designing their page and creating their content will find this a fantastic option. Just like Pixabay, the images here are also based on CC0 License. Therefore, you don't have to spend a dime when using the photos on this website. You can use them for commercial and personal use.
Searching for the appropriate photos that you will use is also easy since all images are appropriately tagged. You can also browse the image according to pastimes, emotions, locations, and other themes. Pexels are the preferred option of app and web designers due to the vast collection of ideal photos in displaying mock-ups. The images are also creative and original. Some of the pictures you will find here are submitted by NASA, so you can guarantee that these are all top-quality.
SplitShire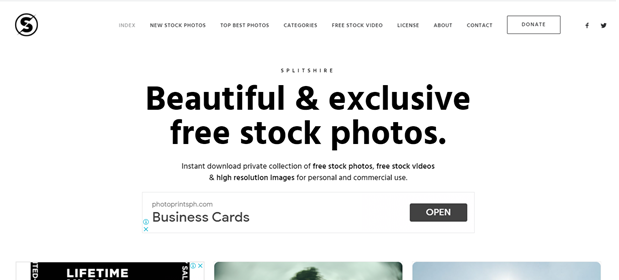 It is another site that hosts a variety of royalty-free images. They pay more attention to quality rather than the number of photos. One interesting fact about this website is that all pictures are taken and uploaded by the website owner. The website is the result of the owner's dedication for more than ten years. You will be able to utilize the pictures without any extra cost.
Since the owner has photographed all photos, you will find exclusive pictures that you won't find in any other stock photo sites. The images are divided into different categories like landscape, wedding, abstract, thing, nature, and technology. Perhaps the best images can be found in building and place categories. You have the option to enroll for the premium plans, wherein you can download the pictures in bulk. If you are looking for some exclusive photos that will make your website appear unique, you must check this out.
Gratisography
For bloggers and website developers looking for original, fun, and surreal images, Gratisography will be the best source for you.  Talented graphic designers develop the collection of photos in this website. The pictures are quirky and have surreal edges. They are excellent if you are just tired and sick of the usual images on the stock photos.
When compared to the other sources of royalty-free images, Gratisography will have less-variety of images. Nonetheless, new photos are being uploaded weekly that you can use to separate you from the rest of your competitors. So if you want people to look at your brand as something fun and professional, consider the photos found here.
Join their newsletter so you will have an update whenever new images are available on the website. Like the other websites, the images are separated into categories: people, object nature, whimsical, urban, food, fashion, animals, and business. People can use the photos for free and are not required to credit the owner.
Life of Pix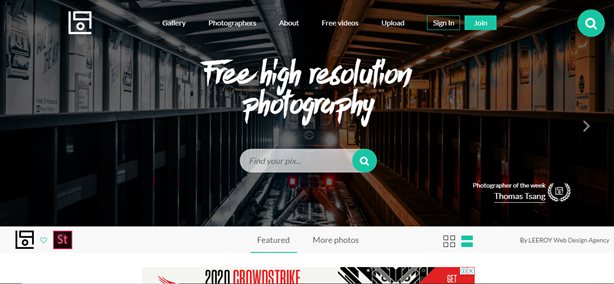 This platform is a photo-sharing site wherein photographers can share their images. The nice part about this website is that you can find high-quality photos on a page that is dedicated to photographers. You can simply type your preferred photographer's name, and you can see his portfolio of images. Other sites do not offer this feature, which is absolutely another primary reason you will fall in love with this site. Some of the preferred categories are animals, cities, and nature.
StockSnap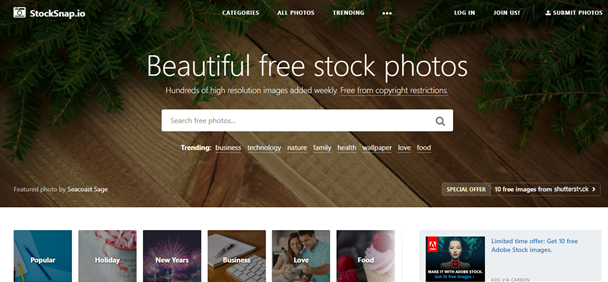 Another host of royalty-free images that come with a CC0 License would be StockSnap. Like the other platforms that we mentioned, it has pictures provided by a group of photographers. You can surf the enormous collection by clicking your chosen categories. You can also check the latest trending photos, most favorite, most downloaded, and the pictures receiving the highest views. All images that are uploaded to this site are of high-resolution. If your site niche is technology, you will definitely find a photo here that you can use.
ISO Republic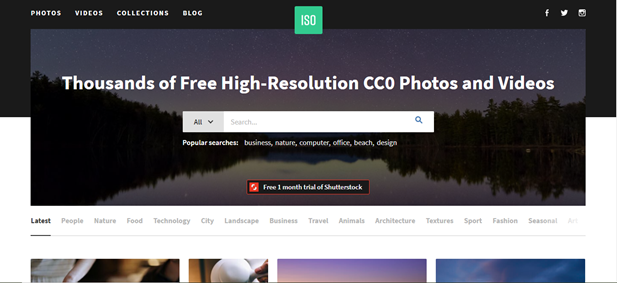 The online portfolio of IOS Republic is consists of more than 3,000 images. While this may not be as popular as the other websites mentioned in this quick rundown, the collection of pictures here is quite impressive. You can use the images for free, and you are not required to add a proper attribution to the owner. The photos have an excellent dynamic range and vibrant colors. The images hosted on this site may not be that large, but the quality is unparalleled. You will find images related to people, urban, city, nature, technology, and architecture. While this may not be your primary source of images, you should still check it occasionally since you will find hidden gems here that you can use for your site or content.
Foca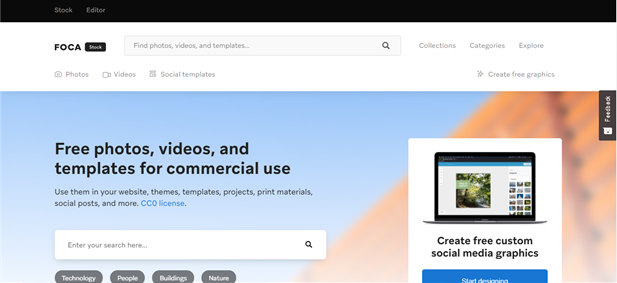 While Foca may not match up with the other websites in terms of quantity, it is still a better image source if you prefer variety and dynamic. Whether you are looking for a professionally-made template, dazzling videos, or high-resolution photos for professional or commercial use, you will find them all on this website. The best thing about this platform is that you can edit the image and download the preferred size of the photo. It allows you to create beautiful images that would enable you to share them on your social media platform and blogs. It also highlights some tools in creating graphics for your social media channels. There are also amazing wallpapers on this website that is specially designed for you.
Reshot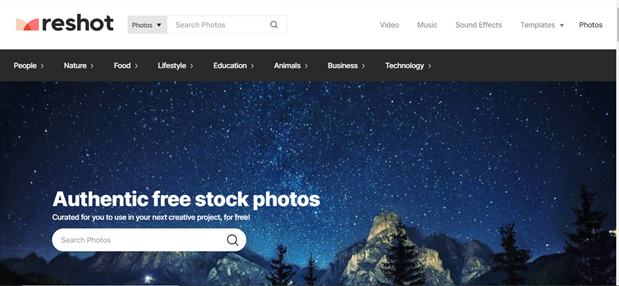 When you are looking for a variety of images, Reshot has them for you. One laudable part of this platform is that it includes a vast collection of trending photos and pictures. It would be much quicker for you to look for the images you will use on your blogs or social media posts. Whether you are a graphic designer, social media manager, blogger, or web designer, there is a high possibility that you will find something you need on this site. One thing that makes this platform different from the other source of stock images would be the fact that it is integrated with Twitter and Facebook. It makes it quicker to share your chosen images with your followers. When looking for variety and quantity, this is a good source of royalty-free images.
Shot Stash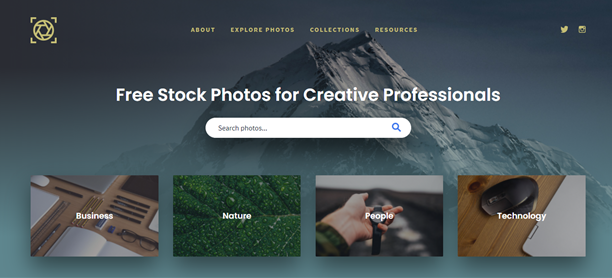 This hosting site comes with three features that make it an incredible source of free stock images. It has a massive collection of pictures divided into a range of categories, such as fashion, technology, and business. The platform will regularly update its portfolio to fit the latest trends and requirements. It is composed of a large selection of the latest photos and beautiful wallpapers that you may use to design your website.
Flickr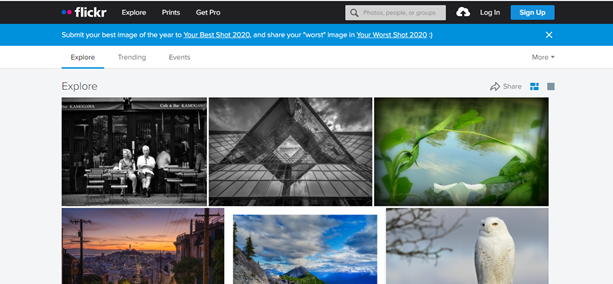 While Flickr's original purpose is not to host public domain images, the massive library of this site will surely impress you. It is probably one of the oldest image hosting sites today. Flickr is a social networking site that encourages people to share photos. You may even improve the quality of the image through their online editing tool. They feature an online album where you can arrange your photos. Remember that you will need to put proper attribution on the image if you plan to use it. Be sure to check the license found below the image.
We know how a simple image can make or break your website. As a company that has been working in this industry for years, we only use the best photos to boost your company's success.