If you own a business, you probably know how important it is to create a website that will keep your customers engaged. Your website serves as the face of your company in the online realm. It connects you to your prospective customers. You want your website to separate you from the rest of the companies in your industry. At the same time, you want it to be robust, and it should be filled with high-quality content. You want your website to generate organic traffic, drive engagement, advance your lead generation strategy, and improve your conversion rate.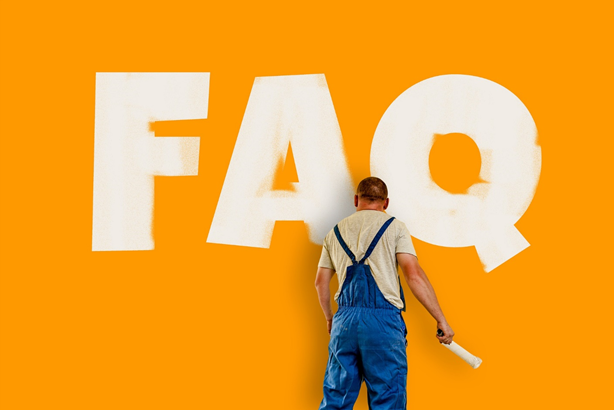 If your website cannot connect to your audience, it is unlikely for your business to survive the stiff competition. To guarantee that it will help you boost your business's success, it should have all the necessary pages, such as an FAQ page. All companies need to add an FAQ section due to the following reasons.
It contributes to the optimization of your website that boosts your SERP.
It gives you a sense of credibility by answering the most common concern that your potential clients may encounter.
If you provide your customers with an answer to their questions, it eliminates the possibility that they will have to contact you. It gives you more time to focus on the core function of your business.
Apart from understanding the importance of an FAQ page, you will need to know how to make it useful. Here are some of the tips of our expert copywriters and SEO specialists that will support you in building a powerful page.
Content Tips
To ensure that the FAQ page will be adequate, it needs to cover all the necessary information. Think about the general questions that you often receive from your client. The items listed on your FAQ can vary depending on the service or product that you sell. Here are some of the possible questions.
Is your product appropriate to use for all ages?
How does your product work?
How should I use the product?
Is it available in different styles, shapes, and formats?
What is the dimension of the item? Is it heavy?
How noisy is it?
Is it easy to use?
How does your service work?
How can we benefit from the service you offer?
How do you define your pricing system? Do you offer a special package?
Do you offer a money-back guarantee?
Do you have a trial service?
Does it come with a warranty?
Be Detailed with the Question and Answer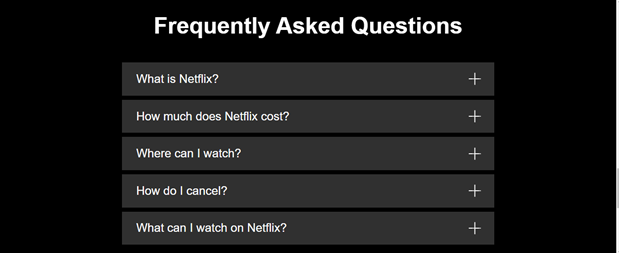 Apart from the most basic questions, it would help if you also tackled some of your service or product's complex facts. One of the effective ways to create detailed questions is to consider the difference in your service level or product styles especially if you offer different models of products and multi-tiered service. For instance, if you are offering security cameras, it should be available in various storage capacities and resolutions. For a subscription company, you should explain the different levels such as Elite, VIP, or Premium Plan. The customers should be enlightened about your various offerings. Try to construct a question that will help you explain this to your audience.
Imagine You Are the Customer
It is quite simple to ignore some of the most important questions if you don't look at things from your customers' perspective. Those who are not aware of your business may have some questions that you haven't think of. When thinking about the items you should add to your FAQ page, imagine that you have never used the service or product you offer. Note the things you want to know if you have never touched, experienced, or seen the product. If you are providing service, list the questions you want to know if you have never booked the service.
Look at the Customer Reviews
There are several lists of information available in your customer reviews that you can use to develop an FAQ page. Authentic reviews will give you insight into how the customers experience your service or product, the common problems they encounter, and how they find your product. The FAQ page can help you showcase the positive testimonials of your customers. You can also clear any confusion or concerns that your customers have about your product. Aside from the reviews, potential customers will likely be posting questions about your service online.
Troubleshooting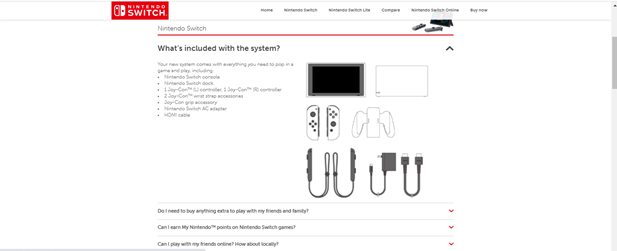 Your FAQ page is the right place to fix the problems before it even became irreversible. People will take their time if they are looking for a new product or service. Maybe there are things that they do not know about the product. Setting up the product can be daunting, making it difficult for them to use the product appropriately. Even if you include a guide and instruction on your product packaging, there are times that it will not be enough, and you will need the FAQ section to provide them with more information. FAQ can help you address their concerns in case something troubling or unexpected occur.
Tips on the Aesthetics of Your FAQ
Another thing that your customers will pay attention to is the overall look of your page. Here are some tips on the format of your FAQ page that you must consider.
Vertical List- This is one of the most common formats. It comes with the fundamental questions that are listed vertically. It is ideal for a company with only a few questions. You may use bullet points or a numbering system to make the questions scannable. Nonetheless, as you update this page, the items included can also increase. It would be best if you had it to look more organized. Using subheadings can direct the attention of the customer to the topic. You can also use an accordion-style for each of the subheaders. You may add a simple one-sentence answer to the question and add a link to direct them to a more comprehensive solution to their problem.
Grid Format- For those who do not want a vertical list format, they can use a grid format instead. It highlights groups of boxes that are aligned down and across your FAQ page. The length and the width of the box should be large to avoid straining the eyes of your audience. Inside the box is the category or the list of FAQs. By clicking on the box, the customers will be directed to the page with the right answer. You can also add images in the grid format. If you are running a business that is more on the creative side, and you want to capture the interest of the audience, adding images is essential.
Chatbots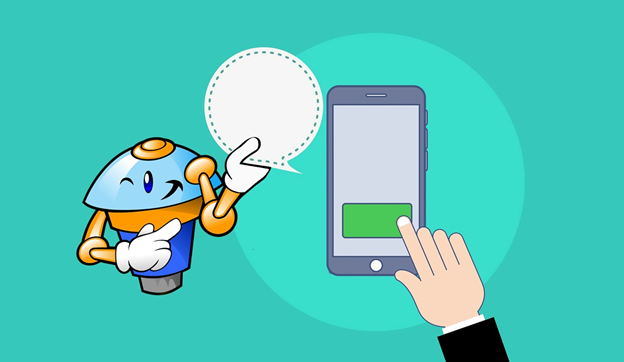 If you offer a modern or technologically advanced product, you can add a chatbot on your FAQ page. It is a sophisticated and highly developed form of customer support that allows you to simulate a regular human conversation. It will help you assist the customers, and it can also reduce the time needed to answer your customers' questions.
An Interactive FAQ
Your FAQ page does not have to be straightforward and boring. Even on the off chance you want to maintain a clean page; you can still add fun and energy. For instance, each category can be represented by a color. You can also use round shapes instead of the regular square buttons. You can also keep the customers involved by making it interactive. You may check out McDonald's FAQ page to understand how you can create an interactive page.
Using Colors
According to psychology, colors can have a direct influence on the behavior and personality of the person. Therefore, you need to be wise when choosing the right color for your website. Blue can make people calm, and red increases people's heartbeat. Apart from their effect, you should also ensure that the color will complement your website and remain consistent with your company's branding. While using your brand color is not necessary on the FAQ page, you still want this color to be seen on this page. Adding some colors to this page can also make it more appealing.
User Experience
When designing an FAQ page, the most important thing to remember is to ensure that your customer will feel great once they leave this page. You need to make sure that they will have the solution to their problem, and moving to the different topics should be simple. The design can be simple, but it should be functional. The links added will have to work without any problem.
Why Does Your Website Need an FAQ Page?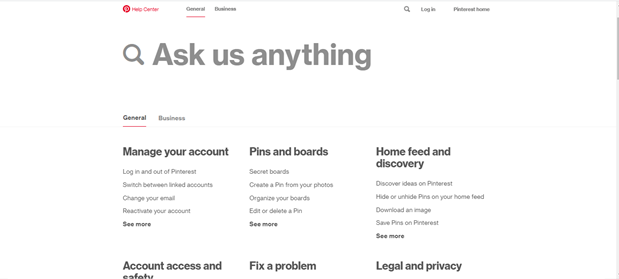 The FAQ page will not be the section of your website where you will share your company's story or create a detailed description of your product or service. It is part of your website that provides a brief answer to some of your targeted customers' commonly-asked questions. If you do this correctly, you will be able to enjoy a generous dose of benefits such as:
Pinterest Help Center
Improving Website Navigation and SEO Efforts- Your FAQ page should not be standalone. It needs to be connected to other pages of your website. If you link the answer to the question to the right page, it makes your website search-engine friendly. Additionally, the navigation process will also be seamless. It also increases the likelihood that the audience will stay longer on your website, thus increasing the engagement rate. It boosts the probability that the name of your product or service will show up on the first page of the search engine result.
It Improves Trust- With your FAQ page, you will have the opportunity to show your potential customers that you pay special attention to your website's user experience, thus winning the loyalty of your audience. If customers can find all the necessary information and answers to their everyday concerns, it increases the likelihood that they will make a purchase. It is a perfect opportunity to help the customers reach a purchasing decision and boost your customer conversion rate.
It Shows Your Expertise- It will show the audience that you are not just a retailer but an expert in your industry. You are the right person to talk about the advantages and disadvantages of the product. It also provides your company with a more professional look.
It Helps You Avoid Customer Complaint-There will be days when your customer support team will be overloaded with calls and queries. They will probably have no time to respond to some of the calls immediately. If some of the most common concerns will be listed on the FAQ page, you can significantly ease the burden and avoid customers' complaints who will not immediately receive your reply.
It Aids Your Customer Support Team- If you don't have an FAQ page, you will be receiving the same question over and over again. You are paying your customer support team to answer them. Therefore, it would only be a waste of resources and time to answer a question that does not require additional explanation. A well-crafted FAQ page will help the customer support representatives focus on the more pressing matters and help those who genuinely need their assistance.
Where Can You Find the Frequently Asked Question?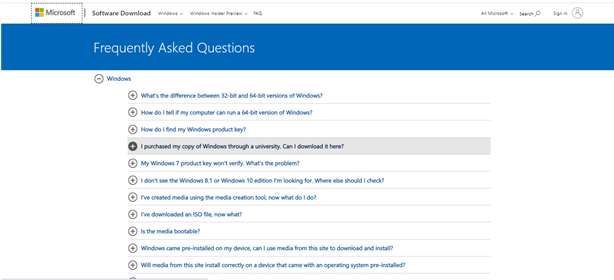 If you want to create a useful and practical FAQ page, you need to know the usual questions that the customers are asking. You cannot just use a random set of questionnaires and expect it to give you a great result. It would help if you remained professional; it will not be recommended to use your imagination in this area. Proper research is needed to showcase your expertise in your field. Here's how you can find out the common questions that your customers must know.
Support Tickets- When looking for questions that you will add on your FAQ page, the tickets created by your customer support would be an excellent place to start. You can also look at the inbox of your company. Try to analyze the common questions of your visitors and find out some of the most common.
Look at Your Competitors-Whether you are running a small or large company; there is a chance that your competitors have already created a well-developed FAQ page. As part of your research, you should look at the FAQ page of your rivals. You don't necessarily have to copy the questions, but there should be some items there that are relevant to your business.
Forums and Reviews- As aforementioned, customer reviews can provide you with some of the usual concerns. You can also check the forum site. If people share information about your product or services, they will also mention any issues they have. It is an opportunity for you to clarify those issues in your FAQ section.
Keyword Research for your FAQ Page
Your targeted-customers will be making queries on search engine sites; by using the right keywords, you can guarantee that they will be directed to your site. After you followed our recommendation above, you should probably have a set of questionnaires. Now would be the right time to check how these people are phrasing the questions to ensure that it will perfectly match your list. Here are some tools that you can use.
Answer the Public- It is a tool that you can use for your keyword research and create online content. It will help you locate the right questions, words, and even the preposition that you must use. Information will be presented in an easy-to-understand manner. The number of suggestions that will appear will be high. Unfortunately, they will not show the average monthly volume search of the keyword or any other analytics that only SEO experts can understand. There are also some limitations on how many searches you can make if you use the free version.
Keywords Surfer- It is an extension for Google Chrome to provide you with overall and monthly search volume. It will present search results in at least 19 countries, including the Netherlands, Germany, France, Australia, and the USA.
Characteristics of a Great FAQ Page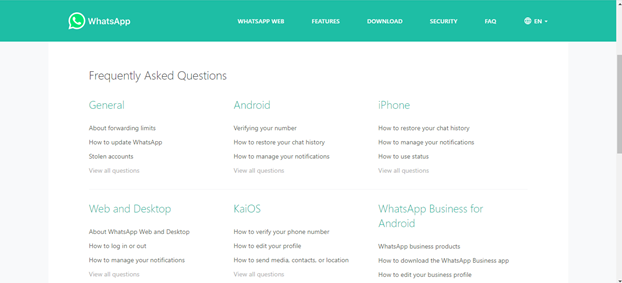 When developing an FAQ Page, you should never do it in a hurry. You must not throw random stuff on that page since people may think you are not taking your business seriously. Suppose you have not been updating your FAQ page. In that case, you may want to check it today since some of the answers may not be applicable today, especially if you are in the tech or marketing industry, which is continually evolving. Here are some features of a well-made FAQ page.
Concise- It is direct, a very brief answer to the customer's standard question. Avoid using unnecessary words. When answering the questions, make it short, then try to cut that answer into half.
Easy Navigation- You will not design an FAQ Page where it is difficult to find the questions and answers. You will need to create the information that it will be easy for the customers to search for the things they need. You may have a great answer to the question, but if your audience can't find it, then there's no use in having it. Try adding a search bar or separate the questionnaires into categories.
Accessible- Aside from quickly finding the questions, you should also ensure that people can access your website without any issues. You want to make your intention deliberate. You want it to be very obvious for the customers to notice the page. Adding tiny hyperlinks at the bottom of your landing page will not be sufficient.
Your FAQ plays an integral role in ensuring the viability of your business. Remember that your Help Center will require constant development. You will need to visit it frequently and eliminate the things that are no longer relevant. There will also be new sets of questions that will come up from time to time.