Before you even start building your website, you should already know how you can attract your target customers. Instead of focusing on your site's traffic, you will have to focus on the number of clicks that have been converted into sales. There are various ways to do this; from developing an engaging website that appeals to your targeted market, giveaways, and online competition, you will notice that your company's sales will dramatically increase.
Improving Your Click-Through Conversion (CTC) Rate Start on Website Development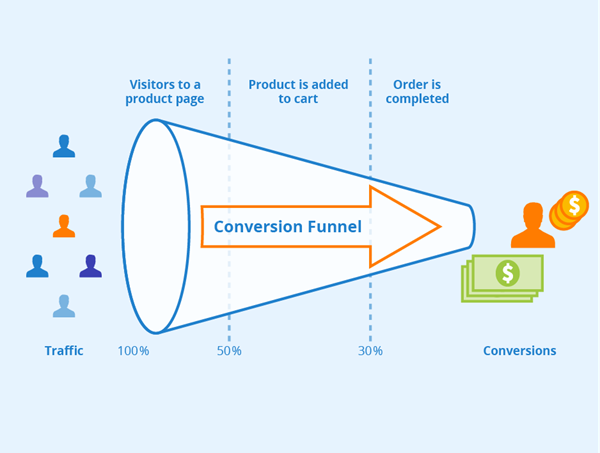 These days, your business will not exist without a robust online presence. At the most basic, you will need a functional website where the customers can reach you. In an ideal situation, you should also have high visibility on various social media platforms. It will allow you to capture the interest of your customers online and encourage repeat business.
Website development may be a complicated matter, but it does not have to be cumbersome. Our company offers a seamless approach to designing your website. Our AI-enabled web design process ensures our clients that they will have a prototype of their website immediately. After receiving your feedback, your website will go through the final development stage before it is released. The whole process will take a week. 
Use a Major Domain and Have a Proper Social Media Page
You want to make sure that your online campaign will remain consistent with your offline branding campaign. When you are launching a website, you need to ensure that you purchased a major domain. It is essential, especially if other companies or other brands will possibly use your business's name. Your social media page should also match all your branding efforts to promote consistency. It will give your business a professional image that will encourage the consumers to trust you more.
Be Active on Social Media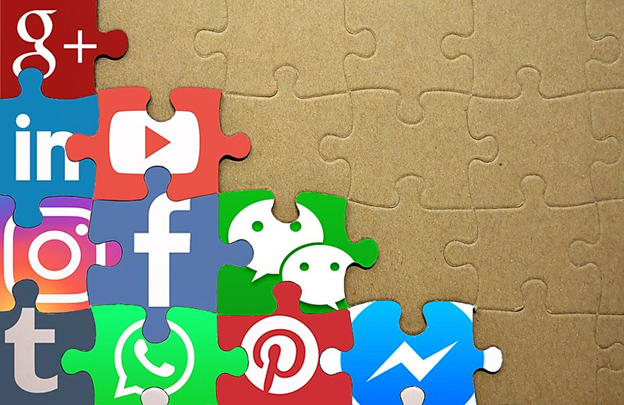 Having a social media page will not be beneficial if you are not active on this platform. If you want to attract and retain customers, you want to make sure that you will regularly interact with your customers. Be sure to post an update and share your web content regularly.
Here are some benefits of having an active social media page.
It provides your customer with an accessible platform to talk to you. Most companies are using social media as part of their customer support.
It is an avenue for promoting your upcoming sales and company events.
It encourages loyalty to your existing customers.
Not all social media platforms are created equal. You want to be present on the social media sites where your customers are active and platforms that will provide you convenience. Posting numerous tweets every day is acceptable, but it comes with character limits. Instagram and Pinterest are heavily based on images and videos, benefiting the food and travel sectors.
For those who do not want to spend a lot of time on social media, Facebook might be their best option. However, if you are receiving significant interaction on this site, you might be required to remain online all the time. Remember that Facebook will mention how responsive an account is. Therefore, you need to respond to your audience at a reasonable time; this is important if you want to amass huge followers online.
Instagram requires the least number of interactions. However, the images you will share should be of top quality, and it needs to be relatable. For Pinterest users, you should develop pins that are worth sharing. The simplest platforms would be Twitter or Facebook. If you do not have enough time to manage your social media accounts, you may want to employ the social media managers' service.
Conduct Sales Periodically
Perhaps the most effective way to convert your visitor into a paying customer is to hold sales. It is an excellent opportunity for them to try and have a taste of your product offering. Sales do not come with a lot of risks on the part of the customers. You probably have a hint on how effective Cyber Monday and Black Friday are. 
When conducting sales, you need to offer products that deliver benefits and values to the audience. Once the customer understands the convenience and importance of using your product, it is easier for them to be converted. In case you are choosing the products that you will sell at a discounted rate, consider the items that represent your company. 
For instance, if you have a spa and wellness center, you can offer your first-time customers a lower introductory rate for their first session. Once they appreciate your wellness center's practical and relaxing effect, it is highly likely for them to return and pay for the regular rate.
Online Contests Can Increase Your Revenue
Everyone will appreciate freebies and some excitement. Holding a contest is giving your followers a sense of excitement to get something they want for free. If you are starting to build your social media following, start by identifying a product or a service that you want to offer to your audience for free. You can then share it on your social media account and inform them that they can win the product by the number of shares or likes they get.
You are probably wondering if holding a contest is worth it. Statistics show that online competition can boost the reach of your business by as much as 34%. About 1/3 of the participants will be willing to join your newsletter to receive promotional items. This sudden boost in your customer base can also increase your conversion rate in the future. There may be some of them that can become your loyal customer. 
Blogging Can Help in Your Lead Generation Campaign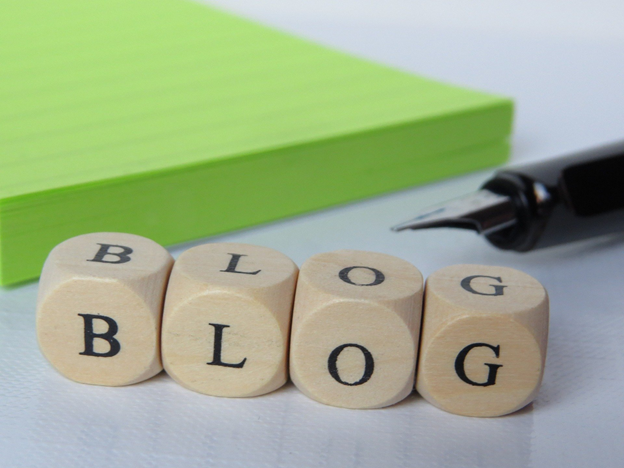 Now that your website has been launched, you need to know the effective methods for generating organic traffic. One of the most effective ways would be blogging. When you are blogging, you should not merely focus on ranking your website on a particular keyword. By solving the problems of your visitors, you can increase the possibility of converting them into customers. It would be best if you always keep in mind that your audience visited your website since they are looking for a solution to their problem.
Blogging is a great way to increase your customer base since this is not based on hard selling and shameless promotion. Also, Google will not love the content that is designed for pure selling. People love to buy stuff from a company that appears reliable and friendly. Providing them with a solution to their everyday concerns will help you establish yourself as a credible resource person in your industry. 
Unlike social media management, blogging will not require too much of your time. Some bloggers will post one article per week, and that is absolutely fine. You need to focus more on sharing quality and relevant content rather than posting daily content of lesser quality.
Free Samples Can Help You Gain Customers
Compared to online contests, handing free samples will be more attainable. Therefore, customers will be more than willing to receive them in exchange for their contact information. Here are more benefits that you can realize from giving samples.
It aims to encourage other people to give your product a try.
It improves the knowledge of the customers about the product. It can enhance the probability that they will tell their friends about your product.
It can tempt the audience to buy more once they enjoyed the samples.
When you are looking for the product you will offer on your free sample, we recommend the product with lots of competitors. When they tried your free samples, they will start comparing your product to your competitors. Not all people will be enticed by the cheap cost. Nonetheless, it is a chance for you to show how beneficial your product is compared to the competitors. 
Focus on the Details of Your Paid Ads
It will take time before you notice the results of your optimization efforts. Therefore, most businesses will realize that they will still have to resort to paid ads. Two of the most recommended paid advertisement would be Facebook Ads and Google PPC ads. Both platforms will allow you to control the users who can see your ads. It is an assurance that you will not be wasting your money on an audience that cannot be converted into customers. Facebook ads are more efficient since you can refine your audience down to the smallest details.
Tools that Will Help You Boost Your Online Sales
If you recently launched an eCommerce store and noticed that you are struggling with your sales, this guide may offer you some help. We will cover all the essential tools that you can use that may boost your online sales.
Grammarly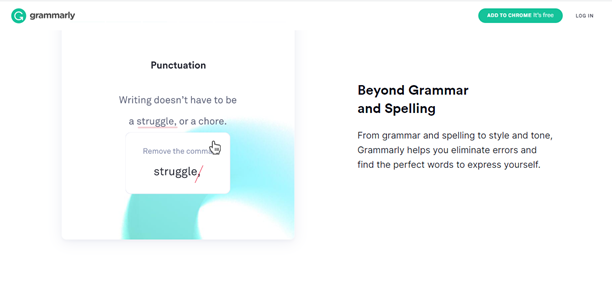 Not a lot of people will consider this when they are trying to boost their online sales. However, there are lots of things that this tool can do for you. Let's start with the basics. Grammarly helps you to check your grammar mistakes and transform your amateurish writing to a more professional one. Perhaps you have been using this tool to create an essay for your school assignment, and you notice how your scores have suddenly improved. Having a well-written article will make others believe that you are a professional in this field; thus, they will trust you more. Developing loyalty and trust will encourage them to choose you when buying their product.
Additionally, Grammarly comes with a readability score. It does not only ensure that your content can easily be understood, but readability score is now a metric used by Google when determining your site SERP. Even on the off chance that you have a well-written article, understand that you only have 7 seconds to provide the audience with all the necessary information.
Canva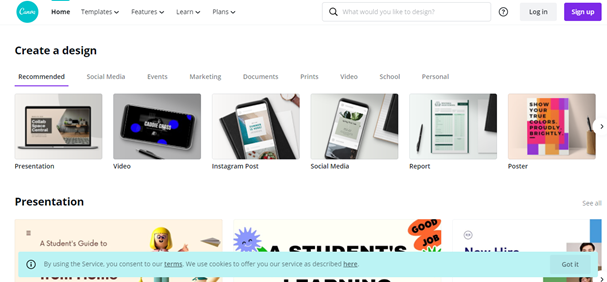 Not all of us are proficient in using graphic design tools like Photoshop. Hiring someone who can create high-quality marketing materials will be expensive. Canva is designed for the non-designers. Since you are running an online store, you will need tons of visual material to display your products in an aesthetically pleasing way. You also need it in a format to easily promote it on a range of online platforms. With Canva, you will now have the tool that allows various people to cooperate in developing templates. You can also import your template or use the thousands of premade layouts in their interface. You can use templates for free, while others come with a watermark that will be removed if you chose to avail the pro plan.
Google PageSpeed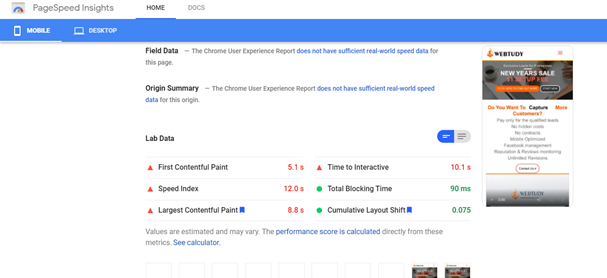 You need to analyze the performance of your website, both on smartphones and computers. Receiving suggestions on how to optimize your site will be a valuable asset. With the insight of Google PageSpeed, there are vital metrics that you will learn for free.  Having a high loading time may affect your online visibility. It comes with a speed score that will rate the loading speed of your site. It will also offer an optimization score, wherein it will be easier for you to comply with the standard practices. The tips they will provide will also be essential when learning the best methodologies today.
Zoho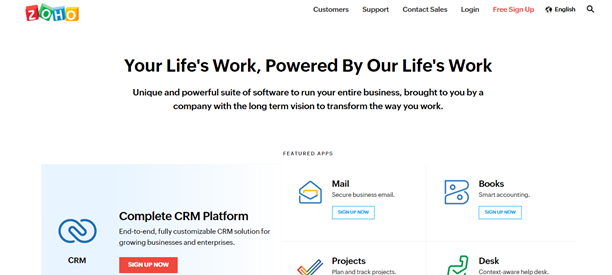 Zoho is a CRM tool (Customer Relationship Management) that serves as the core of your relationship with the customers. It is a perfect place to communicate, collaborate, and to share vital information.  For those who have Google Suite, you can easily integrate them with Zoho. With this tool, it would be easier for you to manage your interactions with your customers since you will be doing all of that in one place. You can also improve your perspectives in determining your needs. You can quickly transfer the files from your Google Drive and import the contacts on your Gmail Contacts.
SEMrush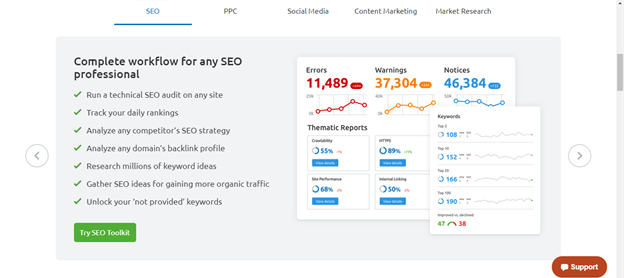 You will need an SEO tool if you want to improve your online sales. SEMrush is a comprehensive program that will offer you an insight into your SERP and digital marketing efforts. It also helps you compare your progress to your competitors in the industry. Here are some of the areas where SEMrush can help you.
SEO- If you are running an online store, you want to make sure that the Google spider can crawl this easily. SEMrush comes with diagnostic tools that will tell you about your online visibility and authority. You can also find out the dominant keywords that your rivals are using. This tool also offers you data that you can use for your link-building efforts and monitor your site's optimization.
Content Marketing- With SEMrush, you will know which content is attracting the highest number of traffic. Therefore, you will also determine which type of content needs to be refined or improved. Even the times that it has been shared on different social media platforms will be shown here.
Marketing- SEMrush will also provide you with valuable information about your ad campaign. It shows you how your competitors are doing and offer suggestions that will enhance your campaign's cost-effectiveness.
Moz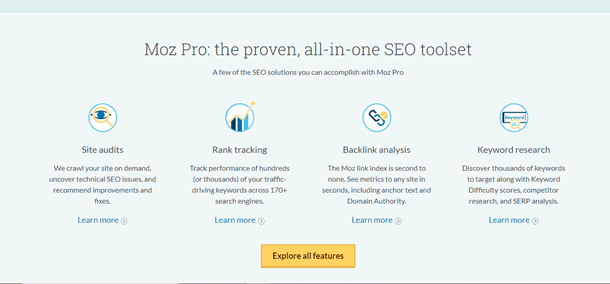 For those who want a more straightforward tool to help them advance their SEO strategy, Moz may be the ideal program for you. It offers only the metrics that you will need to identify the right keywords for you and recommendations to ensure that your website is compliant with the latest algorithms. It will help you identify opportunities that are essential for your link building strategies. You will receive notification for any errors related to your website that could harm your position in the search engine result. Here are some of the features that you will expect from this tool.
Link Analysis- This feature will help you determine the people who mentioned your brand. Even on the off chance that they did not include a backlink directing to your website, you can still identify them with Moz.
Keyword research- It will allow you to determine the best keywords that you should use to advance your branding and marketing strategy. It will include different metrics that even the beginner could understand, like opportunity, difficulty, and volume.
Open Site Explorer- It is probably one of the most popular features of Moz. However, you can only access this with a paid plan. It will help you look for any broken links on your websites. It will also help you determine the SPAM sites that are linking back to your website.
Google Analytics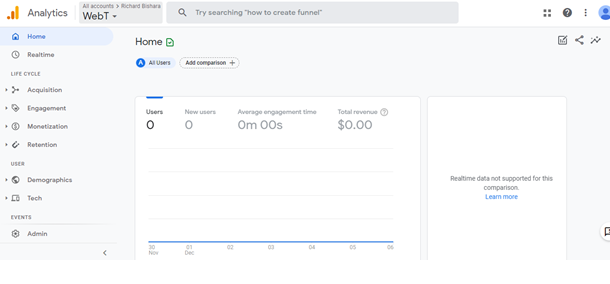 To determine how your website is behaving, you will need an analytic tool; Google Analytics is intended to assess your conversions and identify how effective your sales strategy is. Aside from that, it will also be useful if you want to know what your customers are doing when visiting your site. Some features will provide you recommendations on the right action you must implement to enhance the user experience. With this tool, you will understand how to optimize your advertising strategy and where you should focus your funds. It will also be easy to determine the campaign that must be stopped and those that require improvement.
Analysis Tools- Shows an in-depth, dynamic, and real-time report on the visits to your website. It also provides sources about the behavior, acquisition, and conversion of the visitors.
Content Analytics- Designed for discovering the pages that are performing better.
Social Network Analytics- Analyze the different interactions with your audience.
Mobile Analytics- Identify how user-friendly your website is for those who are using mobile devices.
Conversion Analytics- Identify the actions made by the audience before their purchase.
JivoChat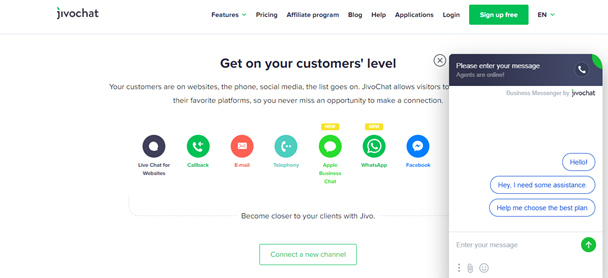 Having an online chat feature will give your online business the boost that you need. JivoChat offers a proactive approach to providing customer support. It comes with different features such as Smart Triggers, Visitor Monitoring, and Free Online Chat. You may even integrate it into your Facebook account and continue your conversation there. With this tool, you can receive calls and messages from your clients that makes it super convenient.
Increasing your customers through your online marketing campaign is a complex process. While you can develop an actionable plan and collect information about your customers, it is essential to monitor your analytics regularly. It will help you figure out if you should change or refine your strategy.