You have a well-designed website, and you made sure that it follows Google's algorithm, but you are not getting the traffic you need. If this is the case, it is time for you to check the keywords of your website. The right set of keywords can advance your SEO campaign and drive organic traffic to your site. This area of SEO may require expertise, but it is instrumental when delivering a quality result.
Complete Guide when Choosing the Keyword for Your Website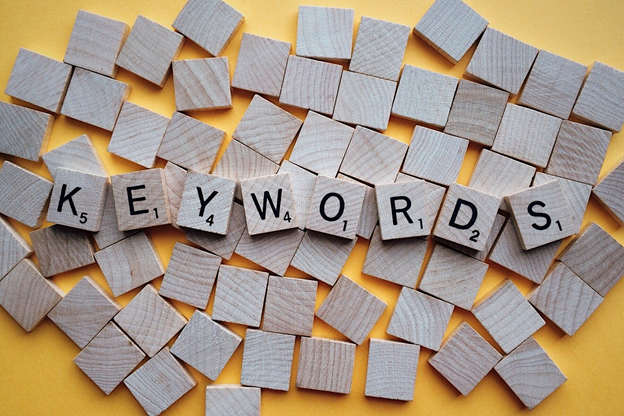 At our company, we are experts in creating user-friendly websites that do not involve any significant inputs. With our AI-enabled websites, you can also receive a monthly report that includes all the key metrics that will help you determine your website's efficacy. You can also analyze and assess the keywords that will work effectively for your business.
Know Your Customers
When thinking about your customers, you do not have to spend too much money and conduct a range of market researches. Instead of using this, your personal knowledge about the business combined with other critical information can give you an insight into how the customers can find you.
Search Terms that Your Customers Will Use- You'll first need to know the key terms that your audience is using to look for you. For instance, if you are a dentist offering your service at Sacramento, some of the possible keywords they will use include 'dentist Sacramento,' 'dental clinic Sacramento,' or dental clinic near me.
Using SEO tools- There are different SEO tools that you can use to determine the most popular search terms related to your business. We encourage you to focus on the longtail keywords. Be sure that these are relevant keywords. It should also be naturally introduced in your site.
Your Customer's Actions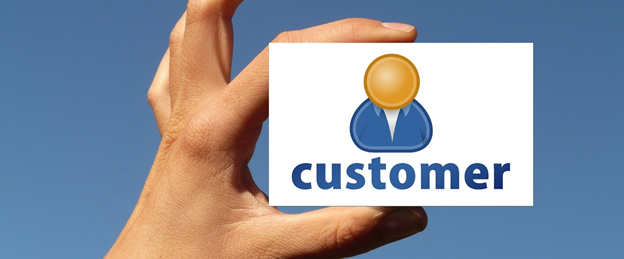 Knowing how your customers think is essential in determining the keywords that you will use. However, if you want to make sure that your SEO campaign will be successful, you also need to know the actions that your audiences are willing to take. Here are some of the actions that you should consider.
Conducting a Purchase- If your customer is planning to make a purchase, the keywords they will use will include 'buy' or 'purchase.'
Researching- If your business's nature can deliver a significant impact, customers can conduct research before they even make a purchasing decision.
Book for an Appointment- Some services require booking for an appointment. Again, you should look at the key phrases they use to identify if they are ready to schedule an appointment.
Visiting Office and Store- Localization of the keywords is essential if you want to increase the number of visits to your store or office.
Understanding the actions that they are planning to take can also help you determine the keywords that you will use and where to use them. For instance, if you are a dentist who is also selling products, here are some of the actions that you may try.
Wise utilization of localized keywords
Keywords that provide additional information
Booking keywords on your contact page and service description
Buying keywords on your Product section
Look at the Keywords of Your Competitors
If you are working in a business sector that is too crowded, expect that you will have competitors. Competition is not a bad thing; it is a sign of a lively market. Aside from that, you may use them as inspiration. If you are an emerging service-based company, you should look at the website of major local service providers. You must go through the list of content they provide and the prominent keywords they are using. After looking through their websites, you will have an idea of the keywords that they use. It would be best to consider targeting these keywords.
Nonetheless, you should not entirely focus on these keywords just because it is prominently displayed on your competitor's website. You still need to know if your targeted customer is using these keywords regularly. Keyword tools provided by Google will give you an insight into the times that the keyword has been searched within the area.
Develop a Keyword Master List
Now that you have an idea of the keywords that your audience can possibly use and the key phrases that your competitors are using, it is time for you to build a list. When creating your keyword list, you should start on the short keyword first. Short key terms will serve as the foundation of your web content. Try to rank your keywords that will help you in developing your long-term SEO plan. When generating longtail keywords, Moz would be an excellent tool. Moz will provide you with an insight into the volume of organic search on a specific keyword as well as the difficulty.
Easy-to-Target or Difficult-to-Target Keywords
Some companies will focus on easy-to-target search terms, while others prefer difficult-to-target keywords. However, we advised our clients to combine them. Focusing too much on the difficult key phrases will produce lower results. When you are using a keyword with high competition, it might take a while before Google recognizes your site as the authority for that keyword. Nevertheless, we do not necessarily mean that you should not focus on challenging keywords.
It is OK to use these difficult-to-target keywords. However, you need to ensure that you will still attract audiences by adding more straightforward search terms. The lesser competition also means that you will be ranking faster on the search result. Besides, the cost of PPC will not be high.
Continuously Refine Your Strategy
For those who have limited time and do not have resources to waste on keyword research- experimentation, and constant analysis are necessary to refine your marketing strategy. No tool or software in the market will guarantee that your website will perform well and will have a high SERP.
Updated List of Tools For Keyword Research
While we mentioned above that there are no magical tools that can help you boost your traffic instantly and catapult you to the first page of the search engine result, software programs are meant to streamline the laborious keyword research process. Here are some of our recommendations.
SEMRush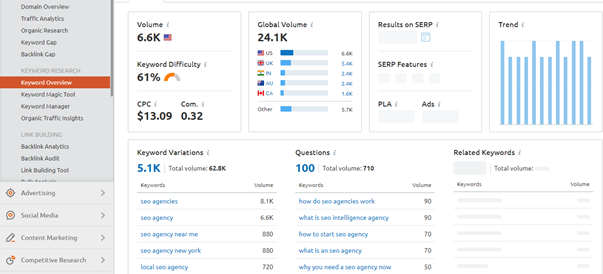 SEMRush is a comprehensive SEO tool. One of its practical features would be its Keyword Overview option. Simply type your targeted keyword, and you will be getting all information that you should know such as the number of people who performed the search using the keyword, the trend, and a lot more.
When you scroll down, you will be presented with a list of other keywords that you may want to use alongside the organic search result. It helps you determine whether your competitors in the business are ranking for a similar keyword.
AnswerThePublic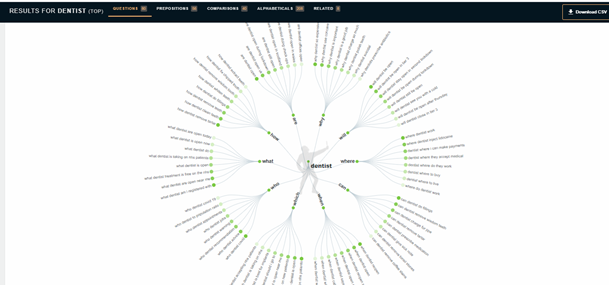 If you are looking for a keyword research tool that will work differently, AnswerThePublic will be a good option for you. It will present the result in a friendly, well-designed visual format. Moreover, you also have the chance to import or see them in a .csv form. It is recommended for people who are just starting with their keyword research. What's more, you don't even have to create an account to access its feature. Simply type in your keyword, and a list of possible related search terms will appear.
Another good thing about this is that the result that it shows are based on Bing and Google; two of the biggest search engine sites today. All search terms are clickable that will direct you to Google. It comes with a featured snippet and data that shows the content and webpages that are ranking for that specific term.
Ubersuggest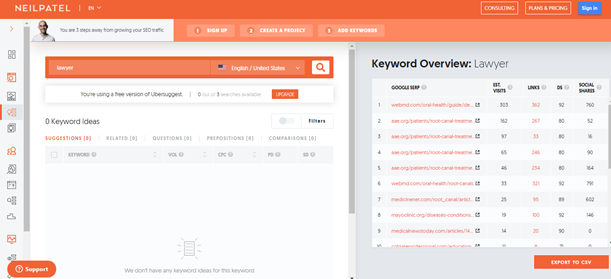 If you have been doing SEO plan and keyword research for a while now, there's no way that you will not be aware of Neil Patel. Ubersuggest is a free keyword search tool offered by Patel that shows the difficulty and the volume data of the keyword. It will also present different related keywords for the search terms that you use. It highlights the top 100 results on Google for that specific keyword complete with the number of shares on social media, domain score, backlink score, and estimated visit.
It comes with a Content Ideas interface, wherein you can view the trending content related to your keyword. Just like the keyword result, it will also show the number of shares on Pinterest and Facebook, backlinks, and average monthly traffic. We recommend using your Google Account when signing up to Ubersuggest since it will offer you more benefits. You will receive a personalized suggestion for your SEO, keyword suggestion, and SERP tracking.
Ahrefs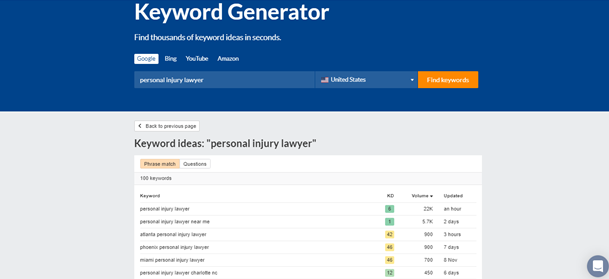 The features that it offers are somewhat similar to SEMRush. Just like the other tools, you can generate a list of keyword ideas, only by typing a specific keyword on their search bar. It will also be equally effective on spying on your competitors. Another useful feature of this tool is that it will show you a list of broken links of your website. 404 errors can significantly affect the SERP ranking of your website and your online authority.
Google Keyword Planner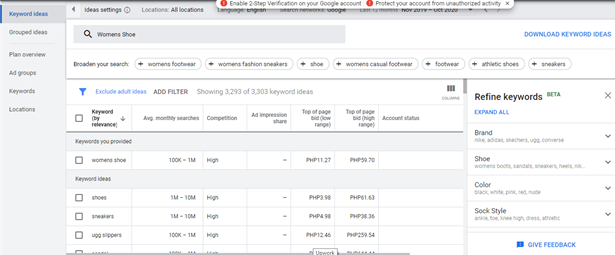 Our keyword research will not be complete without mentioning Google Keyword Planner. It is primarily used by the advertisers who are planning of running their marketing campaign on Google. However, it also has a different use. You can use it as a free tool for your SEO. To enjoy the features of this tool, you will need to have an active Google Ads account. Note that you will be asked to input your payment details here, but since you will not activate the ad campaign, you will not necessarily have to pay anything.
Once you successfully access the feature of Google Keyword Planner, you can type in the keyword, and it will present you with useful data. You will see the approximate volume of monthly searches and competitiveness. It will show an extensive list of related keywords that you can use when populating your webpage.
Long Tail Pro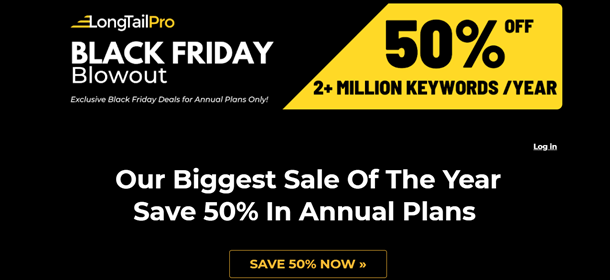 Just like all the premium tools available today, Long Tail Pro will show you an overview of information related to your focused keyword. However, compared to the others, it mainly focused on how well you are doing compared to your competitors. You may use it to monitor your ranking and the position of your competitors. It will also help research for keywords that you want to track.
Serpstat
Serpstat will be another useful tool for your keyword research. With this, you can easily view the top result on the Google search engine. It will include the site that appeared on the Featured Snippet. It also allows you to access a range of data about your competitors that are also targeting the same keyword. The placement of their content shows their online visibility; therefore, they have a higher probability of receiving more visitors.
SpyFu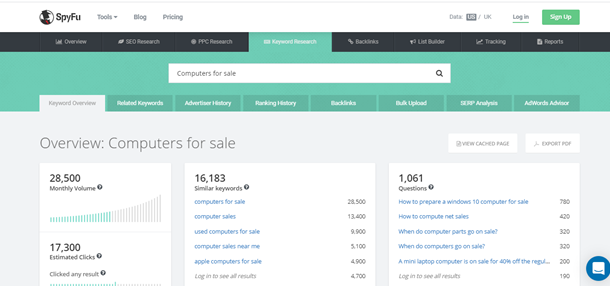 SpyFu allows you to 'spy' on the most profitable keyword of your competitors. It also shows you how well their online advertisements are doing. For those who want to test the waters, you can try this tool for free, without even creating an account or logging in. Simply type in the URL of the website that you want to check on their search bar, and you will be able to view the result in a tap of the button. However, if you need to search for one more site, you will have to sign up for an account.
How Do You Determine the Best Keyword- FAQ
If you have already started your SEO strategy after reading our inputs above, you should also be ready to face the everyday challenges that you will encounter along the way. It is especially true to those who are just starting their SEO efforts. The answers to some of the commonly asked questions here will make sure that you will be able to do the procedure with a minimum amount of issue.
What is Keyword Research?
Most SEO experts will tell you that keyword research is the first step that you need to take towards a successful SEO campaign. This process will help you determine the phrases and keywords that people use when searching online. By doing it properly, you can increase the visibility of your business, especially on your targeted market. Keywords are introduced on content, page titles, and meta description. It helps in improving your SERP and ensure that your website will appear on top of the Google result during relevant searches.
What Are the Different Types of Keywords?
Not long ago, keywords simply refer to the terms that people will use when searching for information online. However, if you are doing keyword research, you will soon find out that there are various types of keywords available.
Buyer Keywords
These are the terms that the customers are using when looking for a product or service. These can be separated into three categories.
Informational Keywords- When performing keyword research, you need to understand the various level of the purchasing funnel. It will not only help in choosing the right keyword, but you can also create content that will reach the customers at a varying level. Informational searches are done by people who want to know information about your business or industry. They may search for 'Thing to Consider when Looking for a Lawyer' or 'Will Root Canal Procedure Accept Insurance'. These are searches that will not immediately transform into revenue, but there is a possibility of converting them. Furthermore, they can bring quality traffic to your website. Some of the places where you can find the right Informational keywords are Quora and Reddit since the topics here are user-driven.
Transactional Keywords- These keywords are used by people who have already performed comprehensive research about the business. They are the people who are more likely to conduct purchase; this is where you can generate money. The tools that we mentioned above are an excellent way to find your targeted keywords.
Navigational Keywords- Navigational or Go keywords are the term that people use when they want to visit a website or brand. In this level, the customers are only looking for their options for their problems.
Keywords by Length
Longtail Keywords- Whether you are using informational or transactional keywords, it is essential to use longtail keywords. Nowadays, there are so many companies and brands that are competing in this SEO game. Longtail keywords are detailed and specific. For instance, if you are a personal injury lawyer, you will probably attract more customer if you use 'Personal Injury Lawyer+your Area of Service (Personal Injury Lawyer Phoenix), rather than focusing on 'lawyer' or 'attorney'.
Generic Keywords- It is also known as the short-tail keyword or head keyword. It is broad and has a high volume of traffic. It is usually composed of 1-2 words, and it is often difficult to rank. However, you should still not disregard this when performing your research. By knowing which generic keyword is receiving the highest amount of monthly volume search, you will be able to determine the best longtail keywords to use. For instance, if you are an SEO Company, your generic keyword would probably be 'SEO Agency', you can then make it more specific to create a longtail keyword like 'New Jersey SEO Agency'.
On-Site Keywords
These are the keywords that you will typically include in your content or resource center. If you are creating a landing page or a blog section, you may populate them with these types of keywords.
Primary Keyword- This is the main targeted keyword of your webpage. Each of your pages should have at least one primary keyword assigned to them. Be sure that you will follow the latest white hat method when optimizing your page using the primary keyword. Otherwise, you can get penalized, for instance, unnaturally adding keywords will send a signal to the bots that your page is untrustworthy and will harm your SERP and traffic.
LSI Keywords- LSI (Latent Semantic Indexing) keywords are phrases or terms that are synonyms, variations, or semantically-related to your targeted keyword. These are often used to support your primary key phrases. For instance, if your main keyword is Root Canal Dentist in Arizona, your LSI keyword would probably be 'endodontist near me', root canal pain, root canal cost without insurance, etc.
Google Ad Keywords
Google Ads, known initially as Adwords, are used for searching keywords that you can integrate on your advertising campaign. When using this tool, there are different terms that you will encounter, such as negative keywords, exact match keywords, phrase match keywords, and Broad match keywords.
Negative Keywords- These are the phrases and terms that you will intentionally exclude in your Ad campaign. You are telling Google to stop adding your campaign on a specific search result. It would be a great practice to enhance the ROI of your campaign and reduce your advertising expenses. For instance, if you are selling women's shoe, you might want to add 'shoes for men' or 'males' shoe' in your negative keywords.
Exact Match- By using Exact Match Keyword, you are telling Google to only show your campaign to people who are performing queries using terms that exactly match your keywords. It will also include related words, paraphrases, reordered words, abbreviated words, stemming, plurals, singulars, and even misspellings.
Phrase Match- These are the particular key phrases that you are targeting using your ad campaign. You are generally telling Google that your campaign must only be shown to people who are using the exact key phrase.
Broad Match- If you choose to set your campaign to Broad Match, Google will show your campaign for any searches that will use your keywords and the other variation of it.
Knowing the keyword that you will target will be essential in creating a more strategic and informed online marketing strategy. You will be able to connect with your targeted audience, improve your conversion rate, and drive quality traffic to your site. If you do not want to waste money, time, and effort on your digital marketing campaign, talk to us today, and we can formulate a strategy that may help you boost your online presence and authority.